Bonjou!
I am so excited to share with you all of the wonderful things that we have been working on these past couple of months. With so much to report, I find it hard to decide what to tell you first!
The most important thing, I believe, is that we have both learned and practiced the value of patience.   When we feel like things are moving along in a great direction, we often seem to encounter road-blocks.   When we take that celebratory high five for organizing and implementing a successful campaign, we enjoy it for a moment and then remind ourselves that this is Haiti, and we are likely to encounter yet another obstacle.   However, at this moment, other than a main artery bridge that has collapsed and is blocking our most direct path to the orphanage, we are passing out high fives all around!
I will start with our new American Missionary staff that is living at the orphanage.   After a sad farewell to Alison, Goulit, and Molly, we welcomed Spencer, Olivia and Rob to Fond Blanc. Read about them at our new blog titled "Meet Our New Staff".   I love and support all of our American Missionaries, but I have a particular fondness for this team, as my daughter is a part of it.   I feel so honored having her there, as I now get to hear about and see pictures of the children every day!
In addition to our new team, we also finally purchased a new, improved and reliable generator for Fond Blanc. The photo below shows the delivery of our new generator.  This has brought joy to everyone on site and we are so grateful to our donors for helping us raise the money necessary to make this possible. The generator was a very large and completely unbudgeted expense, which could have been a huge problem for us. Instead, we were blessed by a substantial contribution from a long time supporter in Atlanta (who prefers anonymity), and the Rochester Central Lutheran School. The whole experience has been such a blessing thanks to our amazing foundation partnerships.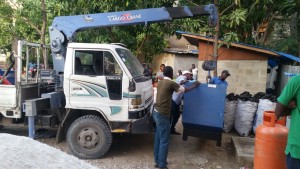 Our Christmas season's "Chicken Dinner Campaign" was another huge success this year! Due to your generous donations, we are able to provide an enhanced protein chicken dinner for the children two times a week for all of 2016! This has been so important in fulfilling our "Health Initiative", as we can visibly see the health of the children improving.   Thank you to all of you that donated towards this campaign.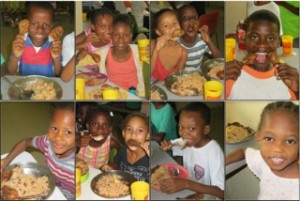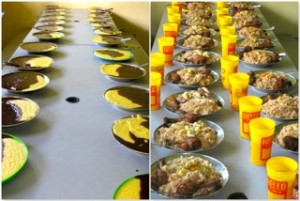 Speaking of chickens…. We have started a campaign towards our sustainability efforts in Fond Blanc! This is exciting news for all of us.   Up to this point we have focused all of our efforts on the "now" and bringing the children's quality of life up to our new foundation-standard.   Now, with all of that moving in a positive direction, we are expanding our focus to the future, with our sustainability efforts.   Through a partnership with the FIJI House – UW-Madison Chapter and Middleton High School's Global Outreach Club, we will be building chicken coops and raised vegetable gardens behind the orphanage.   This will enable us to have eggs for additional protein, chickens for slaughter and vegetables for vitamins.   This is an exciting campaign for us because it not only reduces the cost of food for the orphanage, it also teaches the children about caring for animals and providing for themselves.   We are fully onboard with "Give a man a fish and you feed him for a day; teach a man to fish and you feed him for a lifetime" (Chinese Proverb).  If you would like to donate a chicken to the orphanage, you can do so at our website.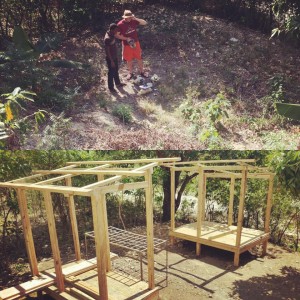 Although I feel like I could tell you many wonderful things that are taking place at the orphanage, you will just have to continue to follow us on Facebook and Instagram, where you can catch "real-time" photos and happenings of the children of Fond Blanc.
Once again, thank you for your continued love and support of the children of Fond Blanc!
Bondye Beni!
Tia