In recent days, I've had countless people ask me, "What's going on in Haiti?" And frankly if it weren't for an impending trip we had scheduled to Fond Blanc later this week, I doubt that the recent happenings in Haiti would have even be on their radar. That's no fault of their own, as until this past week, there has been very little to no news coverage on the pressing issues currently plaguing the Caribbean country.  It's not brought to our attention until things escalate. Until protests and frustrations rise to levels that are impossible to ignore.  And that has happened. On February 14th, the US State Department increased their travel advisory for Haiti to a Level 4: Do Not Travel advisory, instructing Americans to avoid travel if at all possible, and ordered the departure of all non-emergency US personnel and family, due to widespread, violent, and unpredictable demonstrations.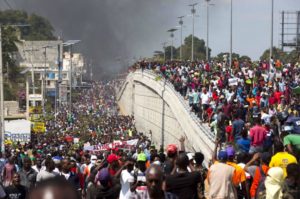 In this Feb. 7, 2019 photo, thousands of demonstrators march in the street as they chant anti-government slogans. (AP Photo/Dieu Nalio Chery) ORG XMIT: TSX309
Protests and manifestations are not uncommon in Haiti, and can pop up rather quickly following independent events, such as gas price increases or undesired election results.  They erupt rapidly, but typically disappear within a few days, when either protesters must return to work to support themselves and their families, or once a temporary solution has been made by political leaders. However, what's happening in Haiti currently is not the same.  Not even close. This is not a singular event that has brought about such frustration, nor is it a three-days-and-done protest, but rather it is the accumulation of things that has reached a breaking point. Or rather a shut down point. And so began "Operation Lockdown Haiti", the goal to shut down all political, social, economic, educational, and medical aspects of Haitian life, making these protests and the voices of the Haitian people impossible to ignore.
Much of the public's current frustration and instability began back in 2015-2016 when the president, Jovenal Moise, was handpicked by the predecessor and head of the former transitionary government, Michel Martelly. He was then elected by less than 20% of Haiti's voting population.  Nation-wide protests ramped-up in July of 2018, when citizens began calling for transparency and accountability amongst political leaders, as to where $2 billion of aid money from Petrocaribe had gone. The money in question was provided through the Venezuelan subsidized oil and aid agreement, appropriated to help with infrastructure development, and health, education, and social programs for specific Caribbean countries.  These corruption concerns have sparked particular rage in the Haitian diaspora leaving people asking "Kot Kòb Petwo Karibe a?" or "Where is the PetroCaribe money?" Currently Haiti is in the midst of a fuel crisis, with exclusively contracted companies, refusing to deliver new shipments of oil until Haiti can pay their outstanding debts of nearly $35 million dollars.  So with that in mind, you can imagine how that affects the cost of living in Haiti: as fuel prices skyrocket and so do the prices of food, transportation, and other basic necessities.
To make matters worse as the current cost of living in Haiti is on the rise, the value of the Haitian Gourde, their national currency, is depreciating, challenging the purchasing power of a population already facing extreme poverty.  The effect of the recent inflation of nearly 15% makes it difficult for many Haitians to buy the basic necessities to survive and feed their families.  According to IRIN News, "A few months ago one US dollar was equivalent to roughly 71 gourdes. It has now risen to nearly 85. One small can of rice used to cost 35 gourdes. Now, it costs 60."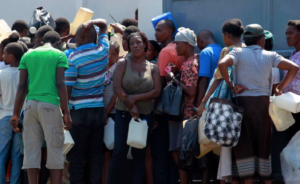 CARL JUSTE
CJUSTE@MIAMIHERALD.COM
As a result of the previously mentioned occurrences, as well as frustration over the government's un-kept promises to introduce 24-hour electricity and boost agricultural production, the Haitian people have had enough. Protestors, primarily made up of the 18-25 year old population, already challenged by an 80% unemployment rate, are calling for President Moise's resignation. They are hungry. They are tired.  And they are fed up.
President Moise addressed the nation last week, refusing any potential resignation at this time and looking to push blame onto anyone but himself. Protests continue and will continue until "something or someone gives." And while uncertainty still remains in Haiti, we at the Fond Blanc Foundation remain affirmed in our reasons for working alongside the Haitian people and in the village of Fond Blanc. Haitians are asking for a well-functioning country that works to better the lives of its people. This is the desire of the people of Haiti, who work tirelessly, striving to better themselves everyday, and a goal that we have to create a better future for the children of Fond Blanc. We believe these children are the future of this country, and these past few weeks are absolute proof of just how desperately Haiti will need them as bright, guiding lights to lead them through the inevitable future storms.
Please pray for resolution, peace, and provision for the people of Haiti.
Bondye beni Ayiti
(God Bless Haiti)
Molly Wiebe
Advisory Board Member