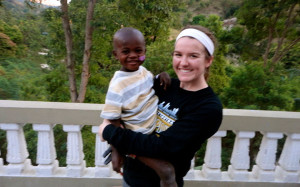 Ed. Note: Rachel is a returning volunteer at Fond Blanc. Her post is reprinted here with thanks for her spirit and with minimal editing.
The last three years accumulate to a total of 1,095 days, or 26,280 hours, or 1,576,800 minutes and many seconds. It's a lot of numbers that are filled with daily routines and activities that shape who we are and what we learn. For the last three years, a total of 19 days, or 456 hours, or 27,360 minutes of my life have been spent participating in a special routine and activity with many others that have changed and continue to change me…The activity being spending a week doing construction work and playing with 54 children in an orphanage, the routine being traveling to Fond Blanc, Haiti where all that activity occurs.
As I start to prepare for the trip every year, which means scheduling last minute appointments to pick up the malaria meds, taking out the last load of laundry a few hours before leaving, or traveling to Chicago at 2:30 in the morning on a bus to catch our flight, I often ask myself, "Rach, why do you do this? Why do you keep going back?" To be honest, there's not a clear answer to those questions or one defining moment from previous trips that has made the answer a no-brainer. But upon arriving at the Port-au-Prince airport, and then traveling two and half hours up the hills while getting coated with dust and inhaling exhaust fumes, we are finally greeted by familiar screams and songs as the gate to the orphanage opens. It is safe to say this is what keeps me going back. Those 19 days, 456 hours or 27,360 minutes have made me realize that the orphanage – through all the travel, laughs, tears and work – has become nothing short of a family.
This past trip to Haiti was a lot different than others. For one, this trip's vision started right after we got back last year with an idea to build a brand new kitchen. The old kitchen consisted of a dirt floor and one wood fire that would be used to make meals for nearly 100 people. Not to mention, the women who cooked the meals were constantly bending over to clean, prepare and provide for us. From there, news spread, plans were formed, fundraisers occurred and donations collected. The new kitchen consisted of a much bigger space, counter tops, a proper ventilation system for the smoke from the fire, new cooking utensils and a brand new coat of paint.
By the time January 4th, 2015 rolled around, our group was headed to Haiti with 35 additional BIG bags of donated material including toiletries, clothes, recreational fun, first aid, work materials and the list goes on. Needless to say, we always make quite an impression on those we come in contact with on travel days.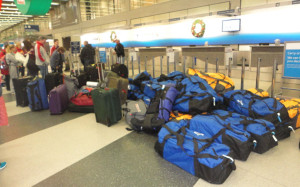 Our flight to Haiti ran smoothly, with no delays (I think that's a first) and just a whole lot of excitement! Once we got to the orphanage, we put all the bags in their respective places and met to discuss what exactly was going to happen for the week.
Our agenda included finishing the kitchen, but we also had plans to build showers with proper plumbing and stalls for the children, help rework some electrical wiring, move the generator and install the new washer that was kindly donated. As the days went by, tile was cut, boards nailed together, shower heads were twisted on, materials were delivered and concrete was mixed. A huge reason why we were able to get so much done this year was due to the fact we had pre-bought material in Haiti to build with, and we were able to bring a lot of our own electrical tools which stayed at the orphanage in the end. While cutting metal or drilling nails into the wood, I couldn't help but think of how different it was since my first year. A few years ago, we were sawing by hand and scrapping around for raw materials. Now with wonderful donors like you, and with the news and stories about the orphanage and the children spreading, it is really something special to see the quality and building progress increase.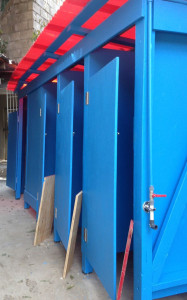 One of the highlights for me was when we were just about done with the showers. We had everything cut and installed, including brand new shower heads and knobs!
Obviously, many pictures had to be taken to document this whole process. On the last day of work, I was going around taking pictures of the project. Tagging along with me was my buddy Didi, a very crazy and energetic seven- year-old who could often be found just randomly running everywhere, doing flips, somersaults, the list goes on…Bottom line, Didi knows he's really cute and charming. I absolutely love Didi and it's been so special seeing him grow up year after year. This time, we got really close and Didi would often fall asleep in my arms or tag along with me as I was cutting wood or metal or organizing the showerheads. Naturally, Didi was with me as I was going around taking pictures of the showers. I had him stand under one so I could get a picture of him in it. As I was doing this, I was trying to explain to him how a shower works.
Keep in mind, there's an English-Creole language barrier, so we  had to figure out other ways of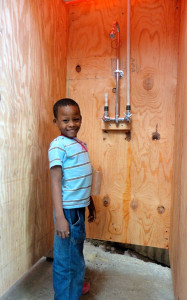 communicating, such as hand movements. Thus, I took the shower knob, turned it without thinking and we both got splashed with water. We immediately started laughing, but seeing the surprised look on Didi's face was nothing short of priceless. This picture was taken right after all that happened. As you can see, Didi looks very proud of his new shower.
But, like any typical family, you run into your ups and downs. On this trip, as much as I don't want to report it, there were some downs. Another job we decided to take on was helping the kids organize their rooms. There are about 12-15 kids who sleep in each room sharing bunks and mats on the floor. Well, this room organization did NOT turn out to be such a simple task. We discovered their rooms were in pretty bad shape, dirty clothes everywhere, bugs, dirt, bed bugs and more. It was heartbreaking and made us sad. When you come across those situations, you realize that yes, structures can be built, walls can be painted and concrete can be poured, but when it comes to kids health, it's something that needs to take full priority.
Thus, our group also got to work on completely cleaning out and scrubbing every inch of the kid's rooms. We sorted their clothes, threw away bad items, boiled the good ones, washed all the sheets, bags, shoes, the list goes on. I can't tell you how hard a process this was to complete. I myself did not work on it that much since I was doing a lot of the construction, but a lot of the other moms and college girls took this under their wing. It was a challenge because not only was there SO much stuff these kids managed to store in their rooms, but it was hard getting them to work with us in order to get their clothes and other items clean. It took a lot of negotiation and trust, but we were so proud of them! Not to mention, it was so cute seeing them at the end of the week walk around smelling their clothes and folding them to be put away nicely! Thankfully, enough money was found to get all new mattresses and sheets as well.
We also designated a "spa night" for the girls, where they were bathed, given lice treatment and gifted with their first pair of brand new pajama's. We provided lots of fun lotions and nail polishes for them to try out. At first, the girls were scared and didn't
know what to think of the big change, but after seeing and smelling how clean they were and squealing (literally) at their brand new, clean rooms, they felt so much pride and joy!
The boys didn't get their jammies on the same day as the girls, so needless to say, when the time came for their PJ distribution day, they were more than excited to be strutting around in Buzz Lightyear and Batman themed tops and pants.
Another fun part was helping the children's caretakers at the orphanage teach the children how to properly brush teeth and wash hands in order to stay clean and healthy. Again, thanks to donations, each child is set with their own toothbrush, bar of soap and a brand new Wisconsin Badger cup.
Some members of our group, including myself, were fortunate enough to take some time to volunteer at a clinic a few miles down the road from the orphanage. Real Hope for Haiti is run by a family who is originally from the States, but moved to Haiti after taking numerous trips there. Now, their clinic sees hundreds of individuals daily, almost all dealing with some sort of malnutrition related issue. We were able to work in the Rescue Center, which houses very sick children until they are healed. I will never forget walking into the center. It was right at bath time, so all the nannies had little kids everywhere waiting to be dried off and clothed. Looking at the children, you would have thought they were all babies, but a lot of them were two-year-olds, only weighing in at 15 pounds or less…
One little baby was on a ventilator. Other members of my group told me she was brought in the day before and they didn't think she was going to make it through the night- thankfully, she did. It was shocking, but the hard work and compassion Real Hope for Haiti has and performs 24 hours a day is nothing short of amazing. I encourage you all to look at their website or follow them on Facebook to read stories and stay updated about the daily trials they encounter.
I will never forget one little boy at the clinic named Jonathan, who was the first child I encountered walking into the Rescue Center. There he was lying down on the mat, waiting to be dried off and changed.
Kneeling down to him, nervous and overwhelmed, I looked at him and he looked at me. All of a sudden, despite the many cries and people running around, Jonathan spread this big smile across his face. I couldn't help but smile and laugh back, his grin was just so cute and precious! Later on, we learned that Jonathan was discovered in the trash, abandoned and severely malnourished. He had been to two hospitals before coming to the clinic where he could be properly treated and taken care of for a long period of time.
Most of the kids who are admitted to the clinic stay there anywhere from 4-6 months in order to properly recover. For those who are abandoned like Jonathan, the organization works to find foster homes for them in Haiti. The owners say they see about 5-6 abandoned kids a year and have found that placing them in homes has been extremely beneficial. It really was eye opening and makes you appreciate the availability of health care we have in the States.
Closing out the week, we participated in our annual soccer game with the village kids and our older Haitian translators. This year, it was Americans vs. Haitians and surprisingly, we only lost by one on a penalty kick…Okay, so we might have had a few more people and the Haitians probably went easy on us… Same report as last time, they are extremely talented at soccer and play it any chance they get, even if that means being barefoot on a gravel field against some Americans!
It was a week filled with lots of hard work, laughs and hugs. I can't emphasize enough how special it was being part of a group who got up at six in the morning with our tool belts and bleach ready and worked until the sun went down. I'm proud to say everything on those plans that got drawn up from the moment we came back last year has been completed. The children are ecstatic, clean and thankful.
This mission in Fond Blanc has become like a family. Strong and thriving families stand with each other through the good and bad, and we thank you for standing with us after all these years. You have contributed to these children's lives and helped them thrive by providing a foundation and a structure for them to learn.
There are so many reasons to say thanks for your help: Didi goes to sleep in a clean bed with clean clothes. Rilusmy can show us what an amazing soccer player he is, all while being extremely humble. Olande can grow into a strong teenager, looked up to by the little girls in the orphanage when it comes to doing things like washing dishes or doing hair. Shelovee who is from the village, knows the orphanage as a place that's full of lessons for her to learn. Your donations, kind words and support don't go unnoticed. It carries us through these trips and into the lives of the children. You're making a difference and making a family stronger. The progress for the children over the 19 days, 456 hours or 27,360 minutes has been amazing, and will only continue to grow thanks to the compassion and love given by you.
Mesi anpil,
Rachel Landgraf